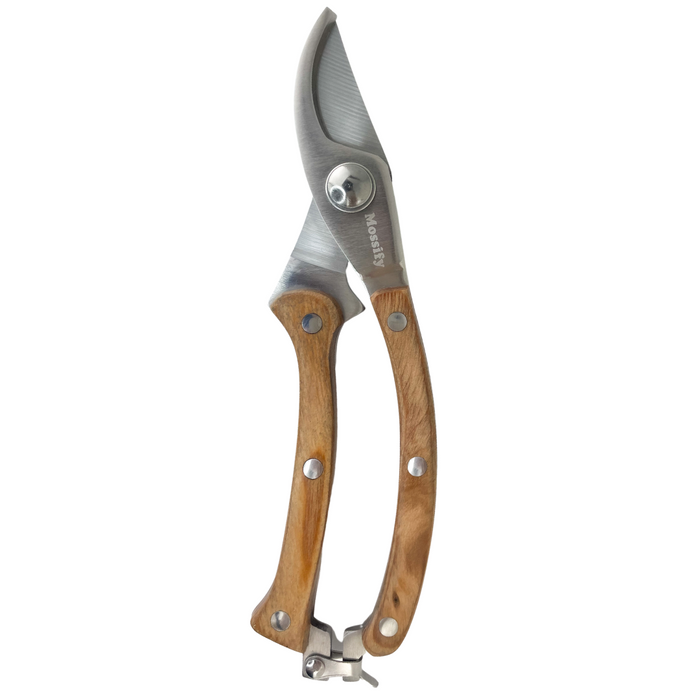 Garden Utility Shears
Original price
$24.97
-
Original price
$24.97
Availability:
in stock, ready to be shipped
1 Tree Planted for Every Order
Interested in Wholesale?
If you're looking to buy in bulk for resale, we offer special pricing for our wholesale customers. Click the button below to explore wholesale options.
Buy Wholesale
🌿 For your general pruning needs 😊
Garden Utility Shears: 
Our NEW and PREMIUM stainless steel Garden Utility Shears will be your perfect help for cutting old leaves, damaged branches, growing vines and much more!

For

indoor

or outdoor use.
Multi-purpose. (vines,

 

stems,

 

branches) 

🌱

Minimal packaging.

Size: 8" tall x 2" wide.
Satisfying

 

wooden handle

 

perfect for left & right 

hand use.

Built-in locking mechanism that prioritizes the user's safety.

Reminder: do not forget to oil the Garden Utility Shears blades after every use in order to avoid rusting.
Mossify's Garden Utility Shears is the perfect tool for pruning your indoor and outdoor plants. Designed for effortlessly cutting old leaves, damaged branches, and growing vines, these stainless steal shears are an essential addition to your gardening toolkit. 
Manufactured with precision and durability in mind, Mossify's Garden Utility Shears are designed to help you accomplish most of your pruning tasks. The sharp, stainless steel blades make quick work of any pruning job, while the ergonomic wooden handles provide a comfortable and secure grip for extended use.
Ideal for pruning houseplants at the start of the growing season and maintaining woody houseplants throughout the year, our Garden Utility Shears ensure your plants stay healthy and vibrant. Climbing plants and indoor trees can grow quickly in the direction of the sun, making regular pruning necessary to prevent them from becoming too large for their environment.
How to prune your houseplants?   ✂️
In order to properly prune your plant, you'll need to take a step back and analyze if one of the sides of your houseplant is growing fuller than the others, if there are dying leaves or if your plant is outgrowing its own support system (moss pole, coir pole, metal trellis, wood trellis).
Once you have determined whether your plant needs pruning or not, your next step is to clip off all the necessary leaves, branches or stems. If your stems have deteriorated at the root of your houseplant, take them out and allow the soil to dry off before watering the plant again.
To encourage new growth, make careful and deliberate cuts to your plant. Make cuts just before leaf nodes. Also, do not forget to prune as close to the main stem as possible when cutting larger stems.
✨ Quality & Trees Matter ✨
We believe that a great plant support begins with great materials and construction. You can feel good about it too! You are supporting local Canadian business & planting trees!

We've partnered with One Tree Planted! 🌲
For every order we get, we plant one tree where the world needs it most!

Since the beginning of Mossify we made a promise to be as sustainable as possible. This means using recyclable materials and trying our best to stay away from plastics! Ain't no body got time for MORE plastics... 🌍
30 Day Warranty & Return:
We are extremely confident in this product. We offer 30 days full coverage of your Garden Utility Shears if it has a manufacturing default. The buyer is responsible for return shipping fees. Please e-mail info@mossify.ca with your order number, and we will get back to you as soon as possible.