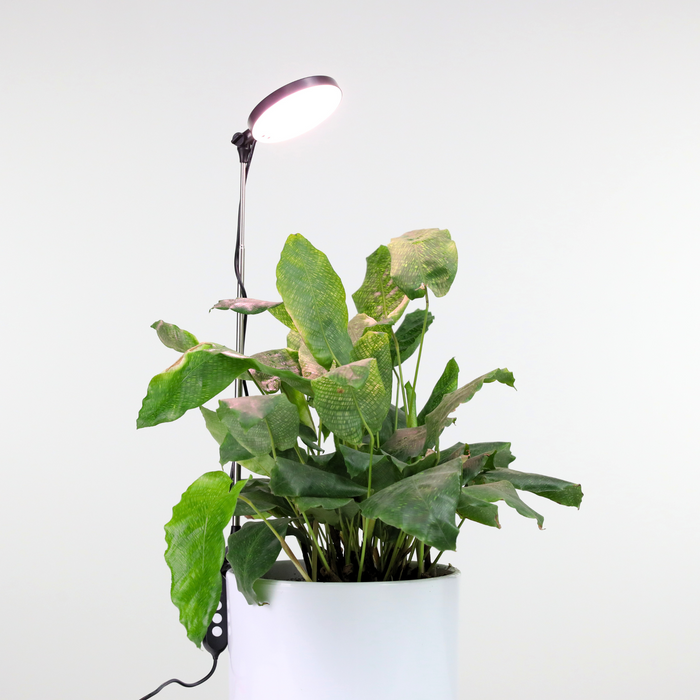 Adjustable LED Plant Light
Original price
$39.97
-
Original price
$39.97
Availability:
in stock, ready to be shipped
Availability:
in stock, ready to be shipped
1 Tree Planted for Every Order
Interested in Wholesale?
If you're looking to buy in bulk for resale, we offer special pricing for our wholesale customers. Click the button below to explore wholesale options.
Buy Wholesale
💡 
BOOST your plant growth 🚀
Adjustable LED Plant Light: 
For

 

indoor

 use;

Available in black and white;
Built-in automatic timer;
Full spectrum;
Height adjustable;
Brightness adjustable;
Included in package: LED lighting module

 

+

 

adjustable metal pole with clip

 

+ and

 

wall adapter;
Minimal packaging;

Product size out of the box: 4" x 4" x 11.8".
Our Adjustable LED Plant Light is a minimal, adjustable and energy-efficient LED light ideal for a wide variety of houseplants. This innovative light is designed to cater to the unique lighting needs of your plants, ensuring they receive the optimal amount of illumination for healthy growth and vibrant foliage. Available in black and white.

Our LED light comes with a programmable timer, offering three different settings: 8 hours on & 16 hours off, 12 hours on & 12 hours off, and 16 hours on & 8 hours off. These options allow you to easily customize your plants' light exposure to mimic their natural environment, supporting their growth cycle and overall well-being.
Featuring 5 levels of dimmable lighting, the Adjustable LED Plant Light can be tailored to suit the requirements of various plant species, from low-light loving plants to those that require bright, direct light. This flexibility ensures your plants receive the precise amount of light needed to thrive.
The light can also be extended from 8 inches to 28 inches, making it suitable for plants of different sizes and stages of growth. This versatility allows you to provide consistent, targeted lighting as your plants mature, encouraging strong and healthy development.
LED Plant Light Tips 💡:

Ideal temperature: 65-76 °F / 16-24 °C

Keep the lighting panel 4"-6" above the plants to make sure they get the right 

amount of light.

16 hours on and 8 hours off with strongest brightness is the best setting for plants 

grow better and faster as only when plants get enough DLI (Daily Light Integral), will they grow faster and stronger.

The LED Plant Light only offers the necessary light for the growth of the plant. Reasonable moisture, nutrients, temperature, timely maintenance and other factors are also necessary to maintain the plants healthy and growing.

 
Built-in Automatic Timer ⏱️ : 

8H: 8 hours on and 16 hours off cycle
(Press the "timer" button, 8H signal light will turn on);
12H: 12 hours on and 12 hours off cycle
(Press the "timer" button again, 12H signal light will turn on);
16H: 16 hours on and 8 hours off cycle
(Press the "timer" button for the 3rd time, 16H signal light will turn on);
No Timer Mode: The light will keep on unless it is turned off
(Press the "timer" button for the 4th time, the light will keep on).  
Recommended Potted Plants:

Herbs

: Basil, Parsley, Thyme, Mint, Dill etc;
Flowers: Dianthus, Coreopsis, Gazania, Phlox etc;
Succulents: Cotyledon, Sedum, Echeveria etc;
Trailing Plants: Pothos, Hoya, Fern etc;
Climbing Plants: Monstera, Philodendron, Ivy.
Specs:
Wattage: 10W;
Color: White;
Voltage: 5V;
Lamp Luminous Efficiency(lm/w): 30;
Material: PC + ABS + Stainless Steel;
Color Rendering Index(Ra): 80.
Note:

1. The initial setting of this light is 100% brightness and no timer setting mode is selected. The light will keep on for 24 hours if you don't choose any timer mode after you turn on the light.

2. If you turn off the light and then turn on the light again, the brightness and timer setting mode will remain the same. However, the timer's cycle will start over again.
This product is CE and ETL certified. 
✨ Quality & Trees Matter ✨
We believe that a great pole begins with great materials and construction. Each pole is made by hand with love. You can feel good about it too! You are supporting local Canadian business & planting trees!!

We've partnered with One Tree Planted! 🌲
For every order we plant one tree where the world needs it most!

Since the beginning of Mossify we made a promise to be as sustainable as possible. This means using recyclable materials and trying our best to stay away from plastics! Ain't no body got time for MORE plastics... 🌍`
1 Year Warranty & Return:
We offer 1 year full coverage of your LED Plant Light if it has a manufacturing default. This warranty will be invalid if the product has been misused, damage by accident or in any other improper use. We gladly accept returns within 30 days of receiving your order. Please email info@mossify.ca with your order number and we will get back to you. 
⬇️ 

Watch this "How-To" video ⬇️