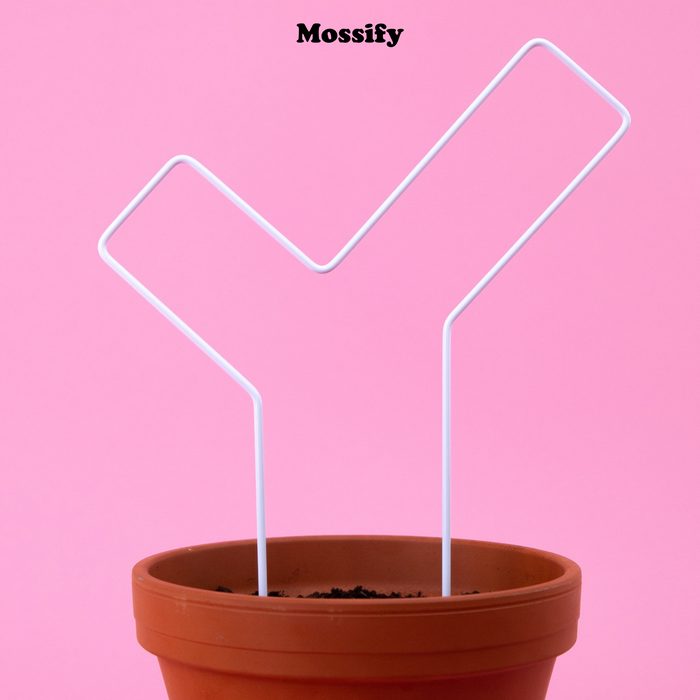 "Check Mark" Metal Trellis
Original price
$16.97
-
Original price
$16.97
Availability:
in stock, ready to be shipped
Availability:
in stock, ready to be shipped
Availability:
in stock, ready to be shipped
1 Tree Planted for Every Order
Interested in Wholesale?
If you're looking to buy in bulk for resale, we offer special pricing for our wholesale customers. Click the button below to explore wholesale options.
Buy Wholesale
🔗 A SERIES OF TRELLISES MADE IN CANADA 🇨🇦
CHECK MARK METAL TRELLIS:
Comes with a protective paint (Premium powder coating);
Available in 3 colors: white, black and pink;
16" High x 4" Wide (stake) x  11" Wide (top check part) x 4mm thick metal;
Designed & made in Canada;
For indoor OR outdoor use. 
 Check Mark Metal Trellis: unique shapes for your plants ✨🪴
Transform your indoor garden with Mossify's Check Mark Metal Trellis, the ultimate accessory for vining plants! This sleek, locally-made in Canada trellis offers a fun and modern touch that is perfect for adding different levels and visual interest to your indoor plants. Not only will your plants love climbing the stylish check mark shape, but you'll also be supporting local craftsmanship and enjoying unbeatable quality.
Our Check Mark Metal Trellis is designed with your plants in mind, crafted from durable materials that are meant to last. The powder-coated paint finish is not only flawlessly smooth but also boasts a luxurious shine that adds a touch of elegance to your space. Its unique design allows for easy installation and versatile use, making it the perfect addition to any indoor garden.
Whether you're a seasoned gardener or a newbie, our metal trellis is simple to use and can be installed in various ways to suit your needs and preferences. Its versatility makes it an ideal choice for anyone looking to give their favorite climbing plants the support they need while also adding a touch of style to their space.
Our instruction tags include 3 languages: English, French & Spanish. 
💚 Canadian sourced and Canadian made 🇨🇦
As supply chain issues get worse and the effort for Mossify to be as eco-conscious as possible, we have been making extreme efforts to bring manufacturing back to Canada and the United States. 

We use the best quality metal and finishes we could source. We promise you and your plants will love this trellis! It is absolutely stunning!
✨ Quality & Trees Matter ✨
We believe that a great product begins with great materials and construction. Each trellis is made with love. You can feel good about it too! You are supporting local Canadian business & planting trees!

We've partnered with One Tree Planted! 🌲 For every order we plant one tree where the world needs it most!

Since the beginning of Mossify we made a promise to be as sustainable as possible. This means using recyclable materials and trying our best to stay away from plastics! Ain't no body got time for MORE plastic... 🌍