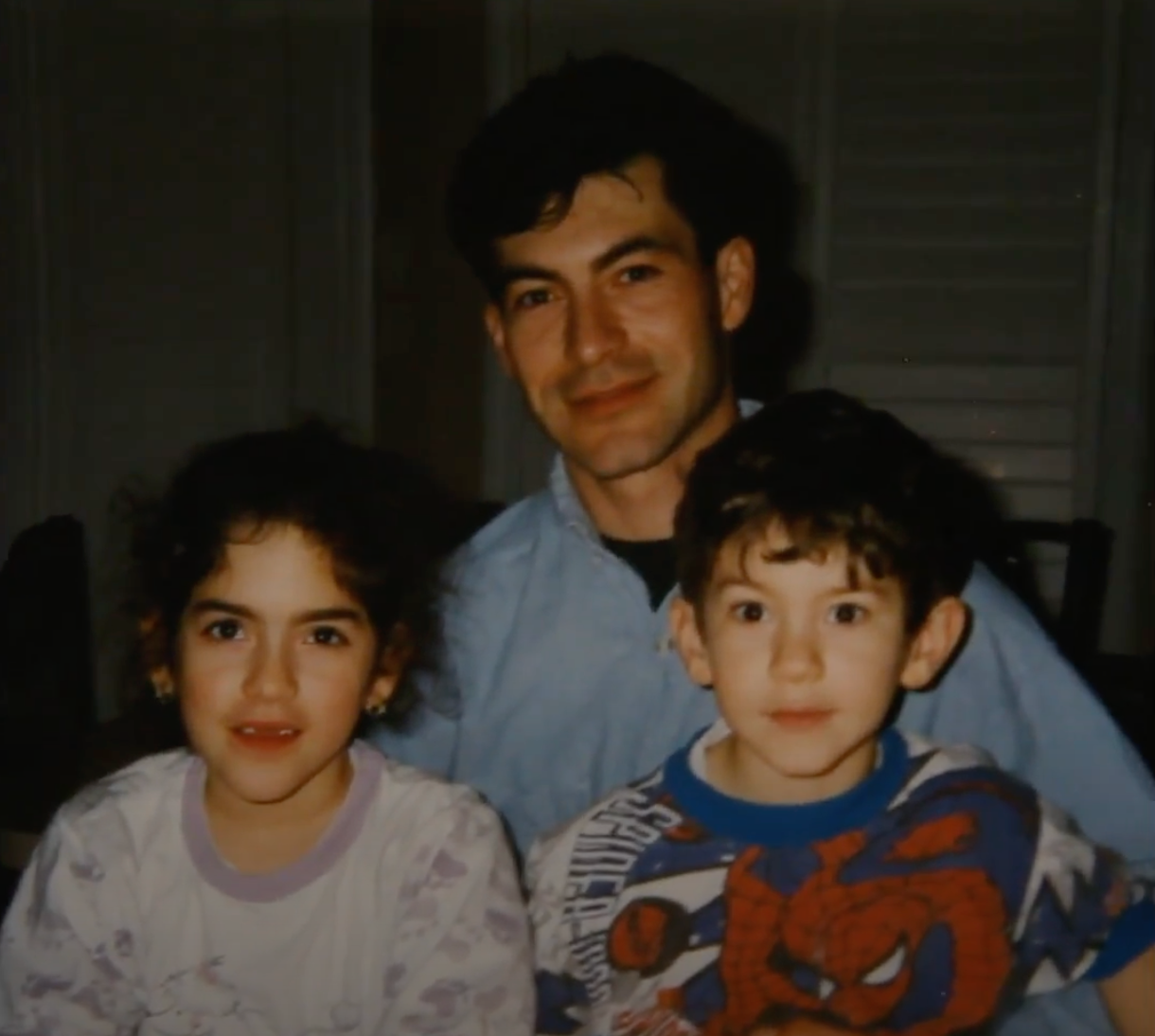 Humble beginnings.
Hey there! My name is Lucas, founder of Mossify (RIGHT). Since I was about 5 years old I've always helped my dad on the construction site. This sparked my interest for wood working and my love for inventing. I would be excited to get up early and always be doing something different with my dad (CENTER). He taught me so much about hard work and thinking creatively.
-(With dad & sister 2002)
Why I started.
Growing up, I would be interested in TV shows like "How it's made", "Mythbusters" or "Dragons Den". These shows along with a lot of other inspirations guided me to this place in my journey on planet earth. When I was younger I would buy and sell items locally and start little side hustles in grade school and high school like selling book marks, making wooden bats for my baseball games and teammates, selling live coral. My biggest goal at the time was have a work shop or warehouse to create things that I found interesting.
- (2003)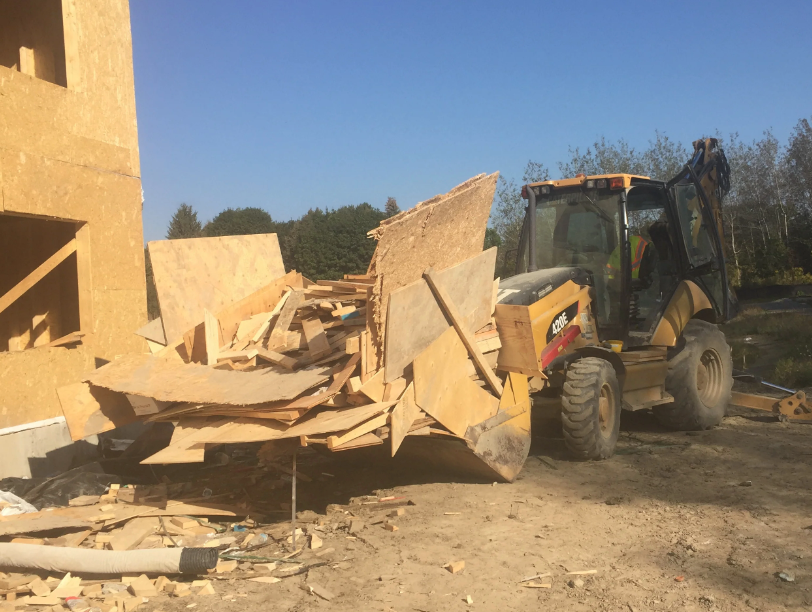 Why Mossify?
Right after high school I started working as a head labourer and machine operator for a residential development company. I love construction but it really has a toll on the body. I developed back pain around 1 & 1/2 years into the job and my dad has always had a bad back so I wanted to develop something for back pain. Long story short, that startup didnt work out but I learned a TON of information. I worked with spine researchers/surgeons, sleep doctors and engineers.
-
Something stuck with me all that time and it was the amount of waste wood I would throw out almost on a daily basis.
-(A photo of the job site I worked at, a very full load of wood going to the bin. - July 2017)
An idea was born.
I was fixing something on my car fall of 2019. I had a wood block and my driveway and noticed a piece of moss on the wood block. I had an idea thinking it would be cool to carve out an image and put the moss inside. I got a hammer and chisel and made a couple designs, the first was the word "CREATE" and the second a moss heart.
-(The idea - October 2019)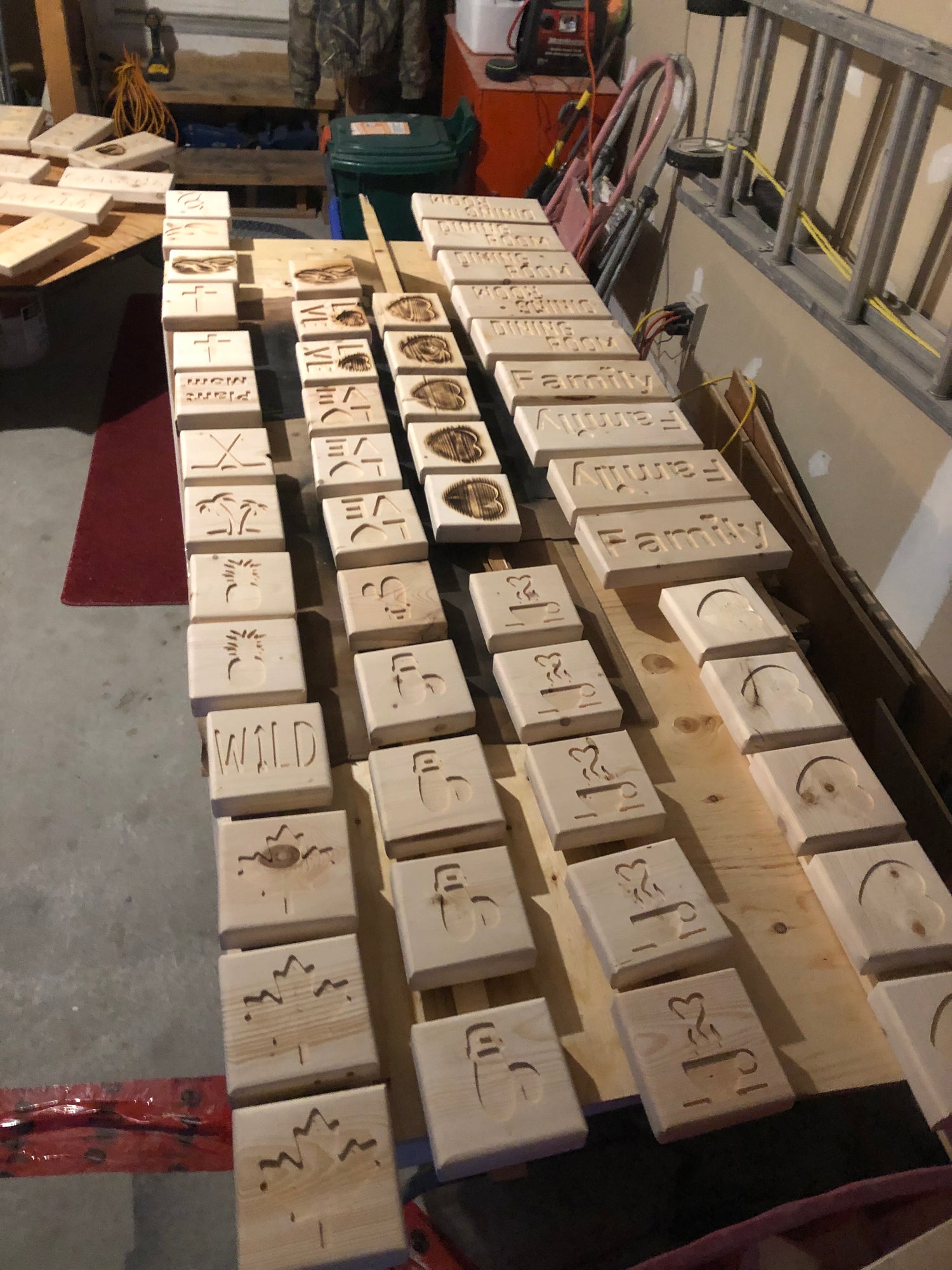 In business.. I guess?
I didn't know a little piece of moss and wood together could take my imagination so far. I brought the Mossy Art inside the house and when people came over and visited, they wanted one! After I got a couple people asking me this I figured I'd do a little research in the garden space... and I really enjoyed it! I thought there was so much potential for a premium and beautifully branded line of products!
-(Photo of some new designs for wood moss art - January 2020)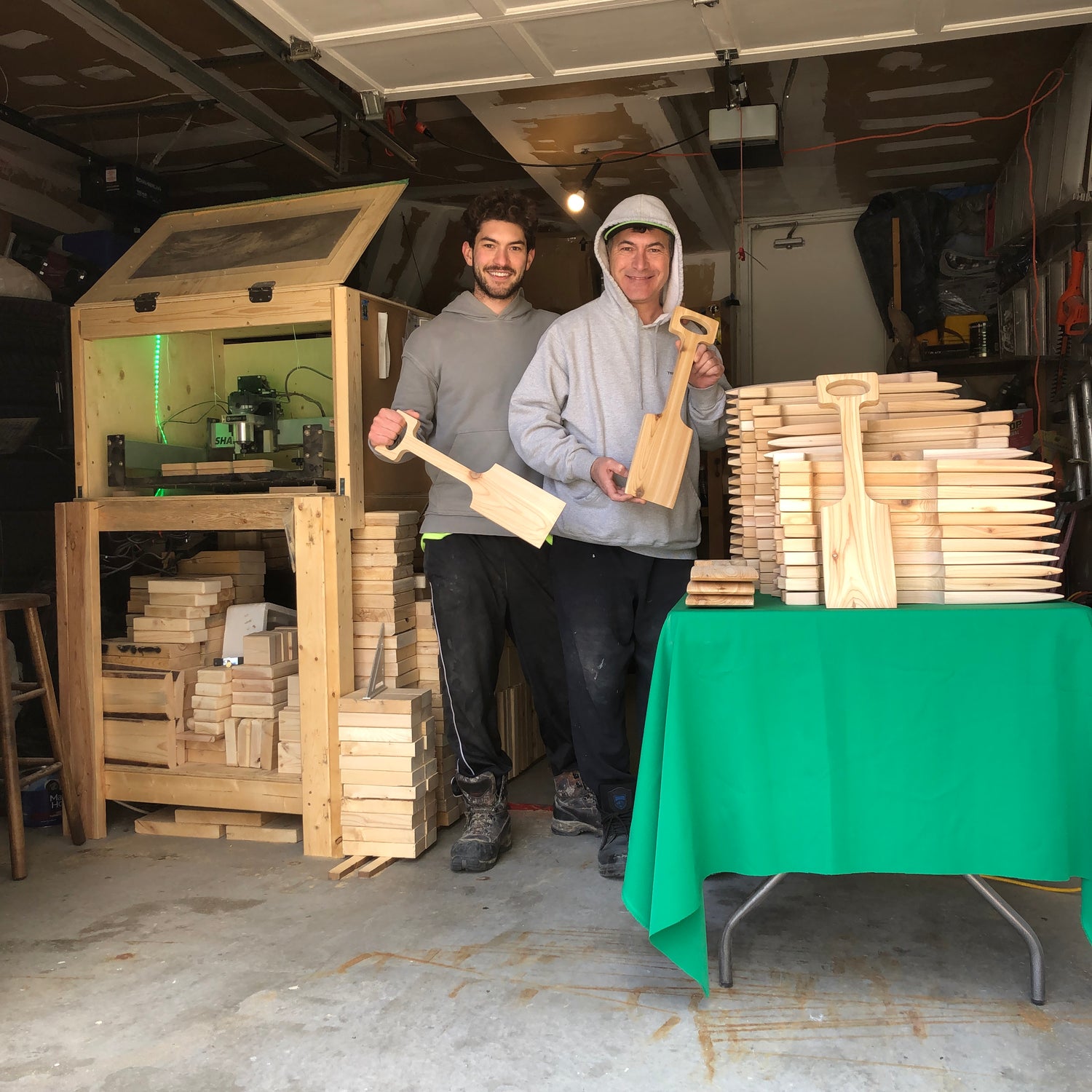 The world is over.
Only 3 months into launching the original business, Covid hit the world. I just invested a lot of my money into so many different things and the world just stopped. I would still find things to make it work and all throughout covid I would work every day on a new brand with a new name.
-(A photo of my dad and I working on 500 Cedar barbecue scrapers for a friends company - April 2020)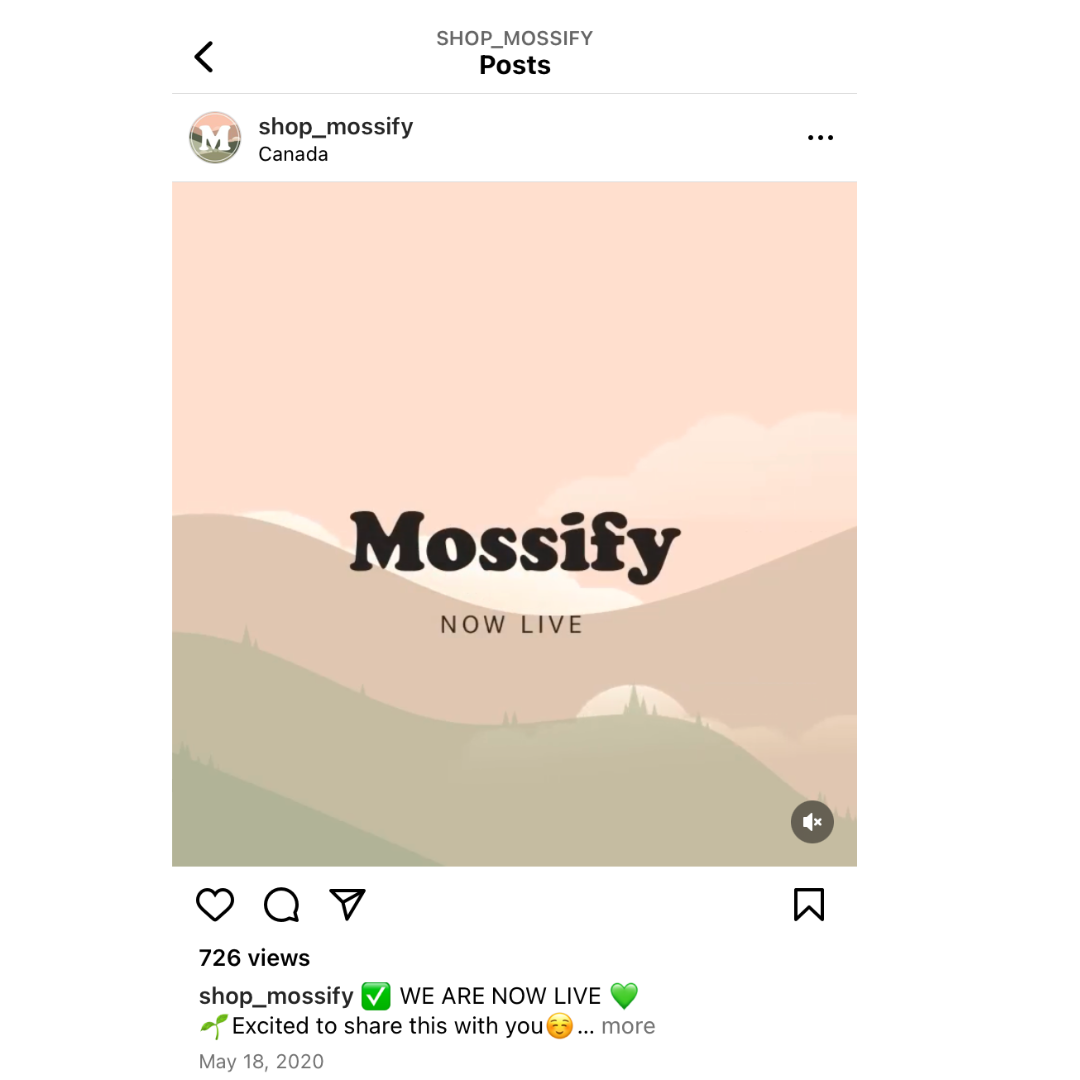 Mossify is born.
On May 18th 2020 a new company was born and ready to thrive! After Months of hard work we were ready to take on the world! At first we sold wood art, T shirts, Hats, hoodies, raw moss and a couple other items!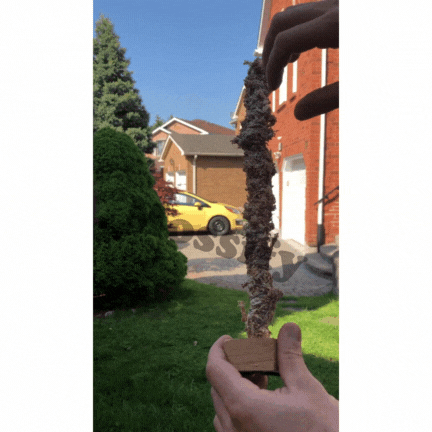 The invention of The Bendable Moss Pole™.
I saw moss poles everywhere but I saw a huge problem. All of the moss poles are straight up. All plants dont grow straight 90°. During Covid, I was really into bonsai and I had this crazy idea. I want to make a Bendable Moss Pole™ so I can shape my plants like a bonsai! The GIF you see here is the very first prototype of the Bendable Moss Pole™.
(PATENT GRANTED - Beware of imitators!).
-(May 2020 - Launched to public June 28th 2020)
Can't get enough!
Everyone really loved my invention! I couldn't handle everything myself so a couple buddies joined the team! We could not believe that people and their plants really loved the items we were making for them!
-(Mark (LEFT), Keshav (TOP RIGHT), Lucas (BOTTOM RIGHT) - November 2020)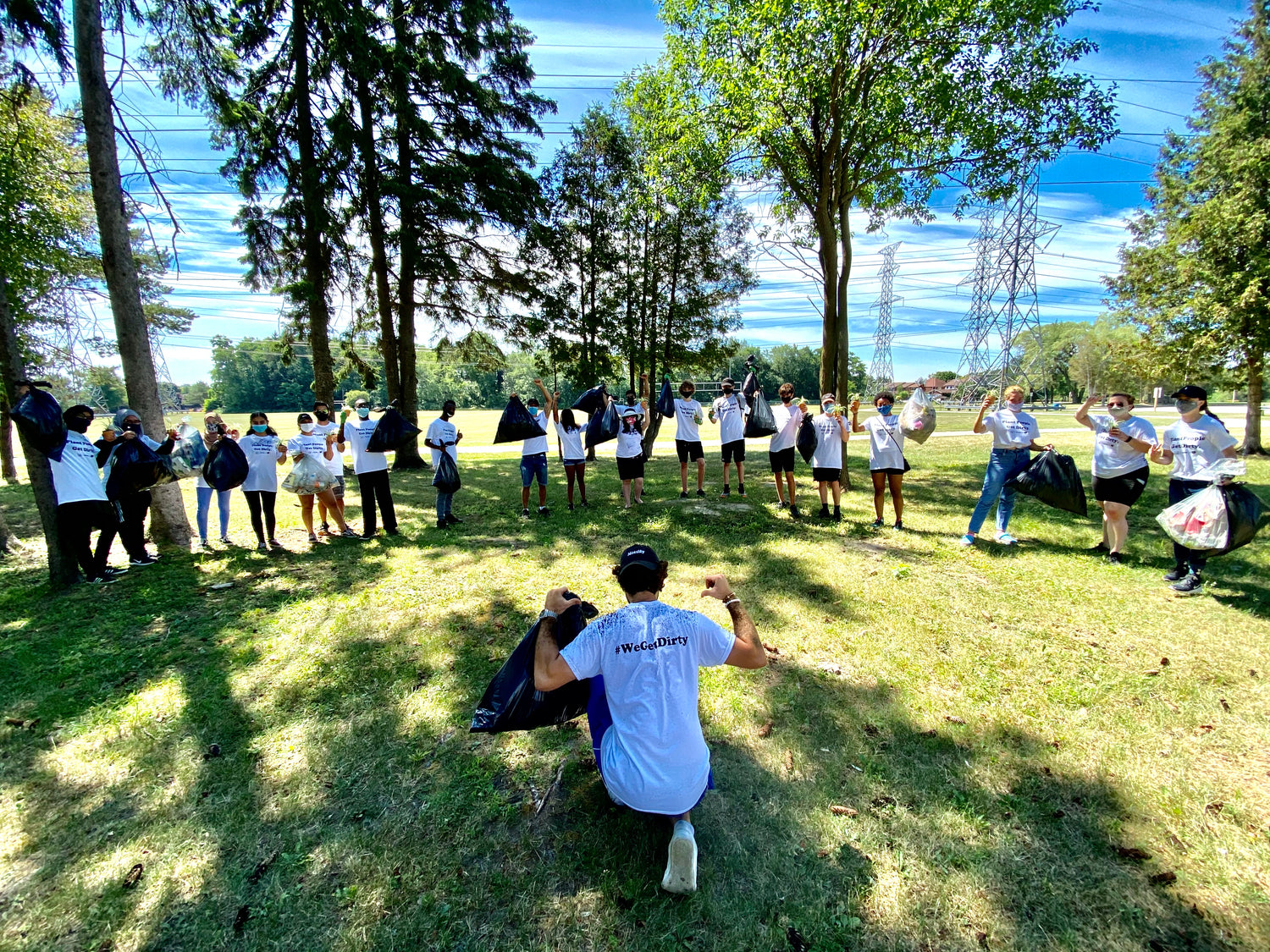 We plant trees.. Together.
Since the very first wood piece we have sold, we have planted one tree every single order. This was important to me and I felt it was necessary for the company since we were inspired by beautiful wood being thrown away. We partnered with OneTreePlanted, a non-profit 501(c)3 environmental non-profit tree planting charity that plant trees in countries around the world.
-(Mossify, PickWaste & One Tree Planted came together in Pickering, Ontario to clean the community and plant some trees - August 2020)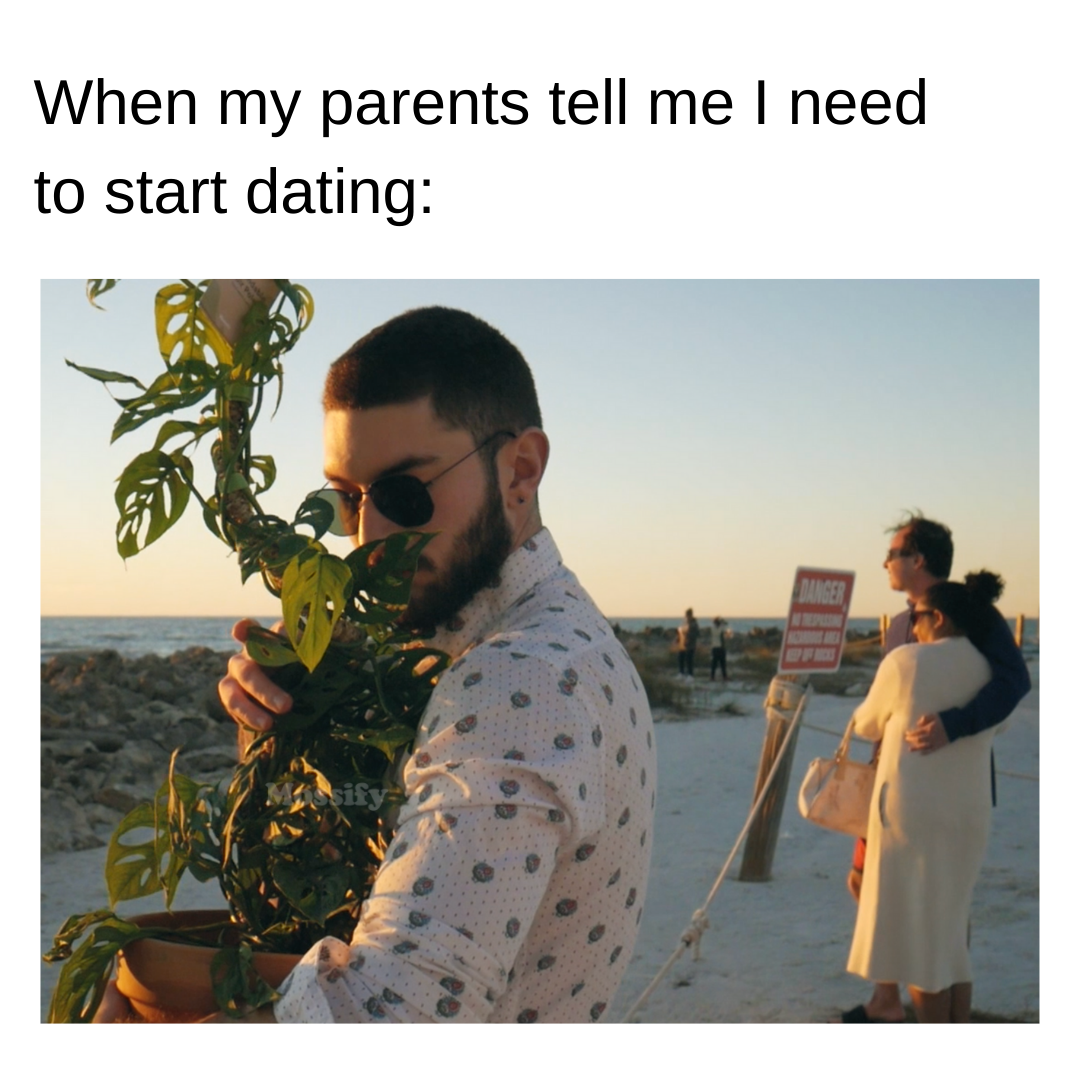 Mossify loves music.
We are always looking for new ways to capture attention, stand out from the crowd and have fun while doing it! Our team is filled with talent in all aspects of media and we do this to make our plant loving community smile and enjoy our brand :)
-(January 2020)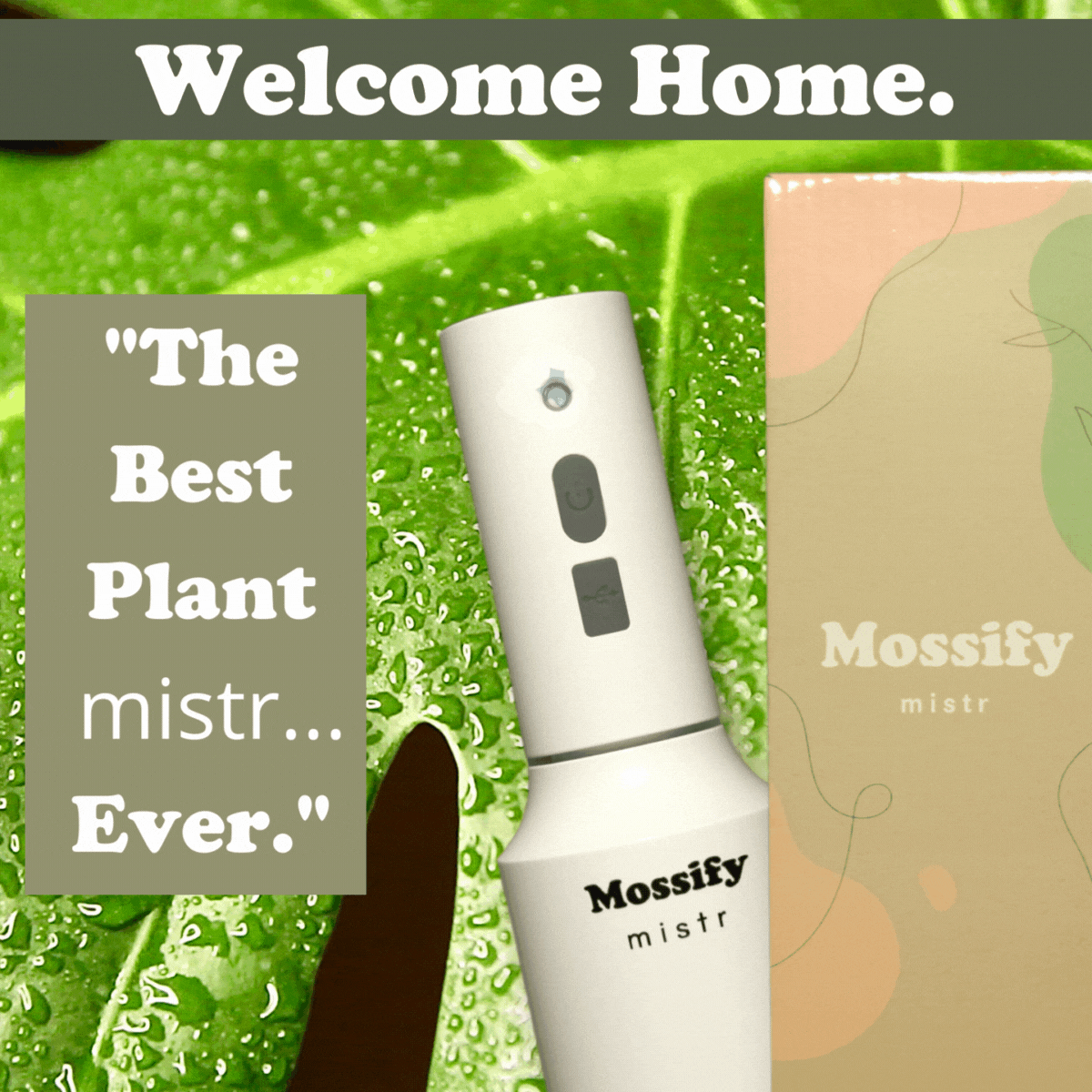 Want a rainbow?
You'll have to deal with the mist! The introduction of our beautifully designed Mossify mistr was a hit and everyone had great feedback! The Mossify mistr is such a great tool at home, work or the beach! Over the years, we have had many people send us their use cases and they never fail to amaze us! Misting our Bendable Moss Pole™ and plants or sanitizing your whole house or work place has never been more fun!
-(March 2021)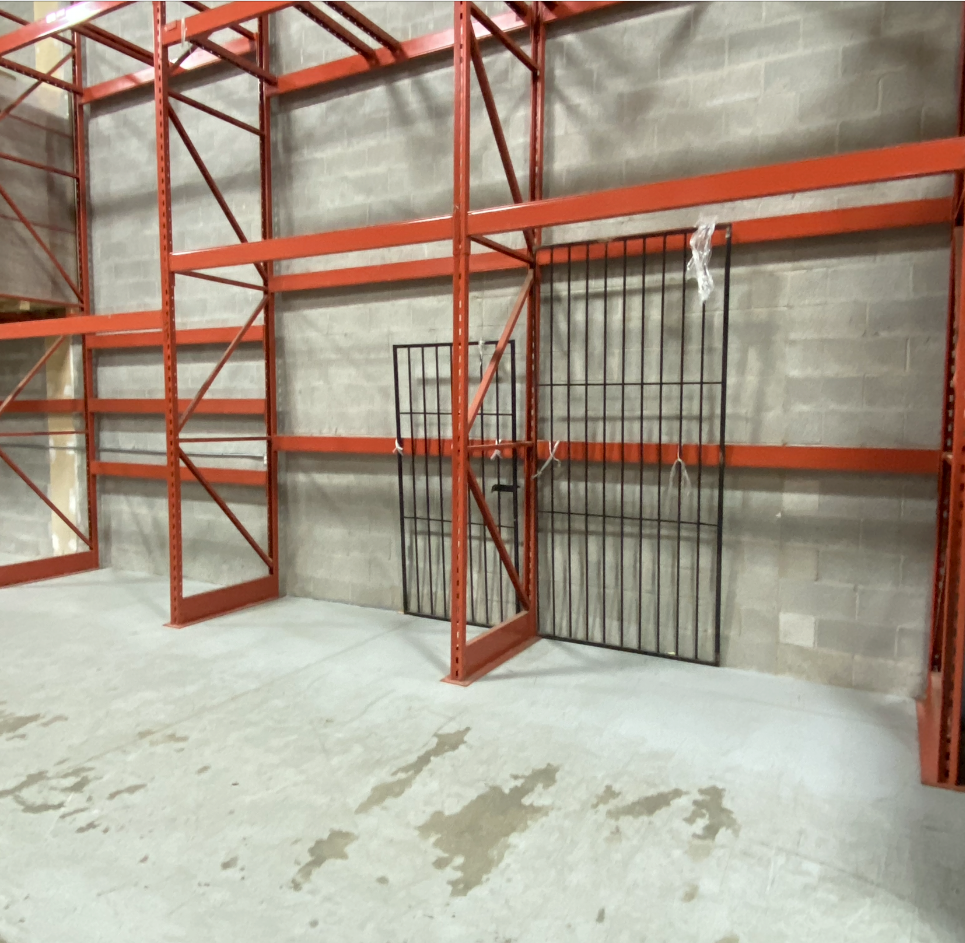 Moving on up.
We moved into our warehouse space! this was a huge step for the business moving out of Lucas' garage. It was probably the largest accomplishment in my mind. I have been wanting to be in a warehouse creating since I was a kid and it finally happened!
-(May 2021)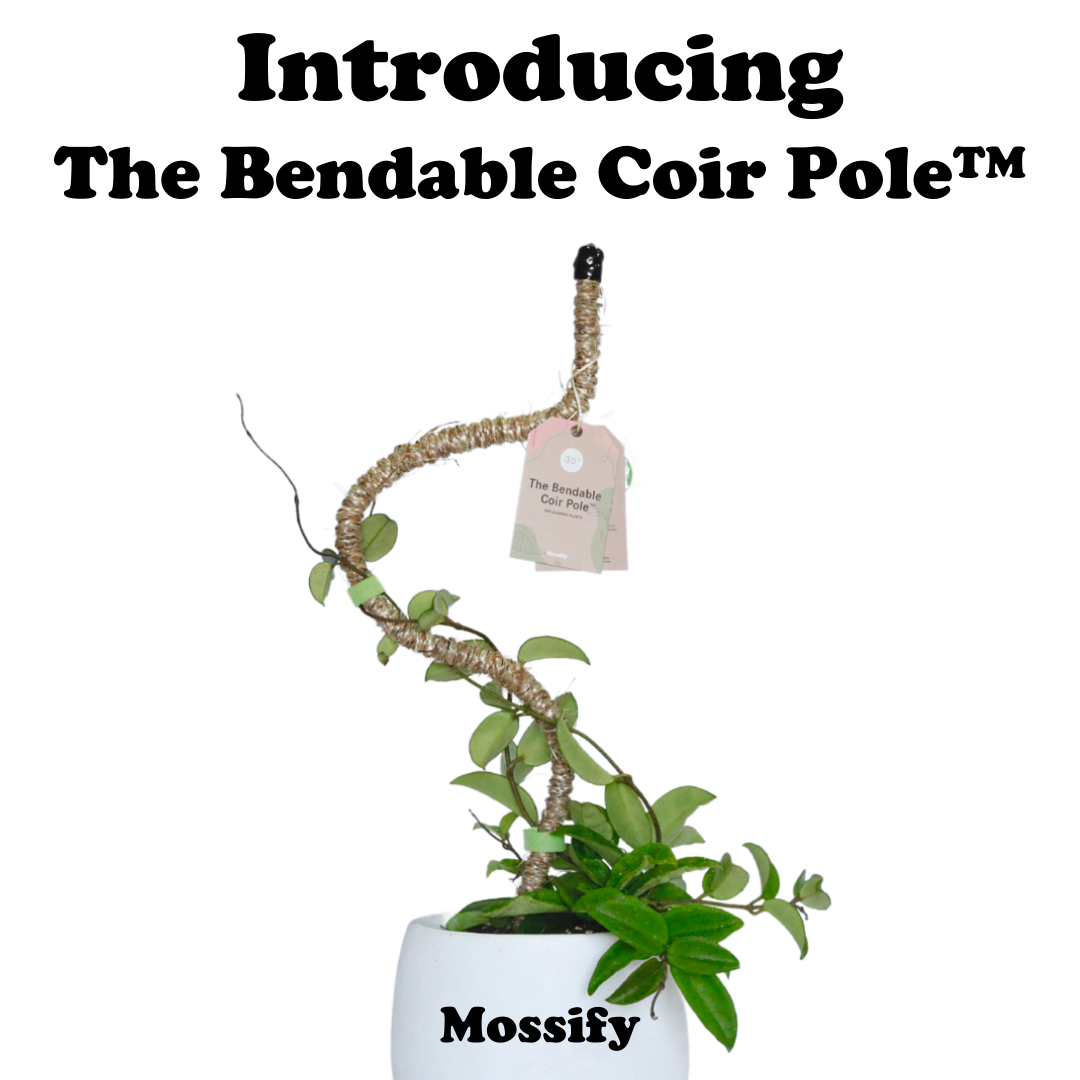 The first ever Bendable Coir Pole™.
After an amazing response from our community to our Bendable Moss Pole™ our community asked us for more! The Original Bendable Coir Pole™ was more versatile than any other pole on the market and the most sturdy as well! (July 2021)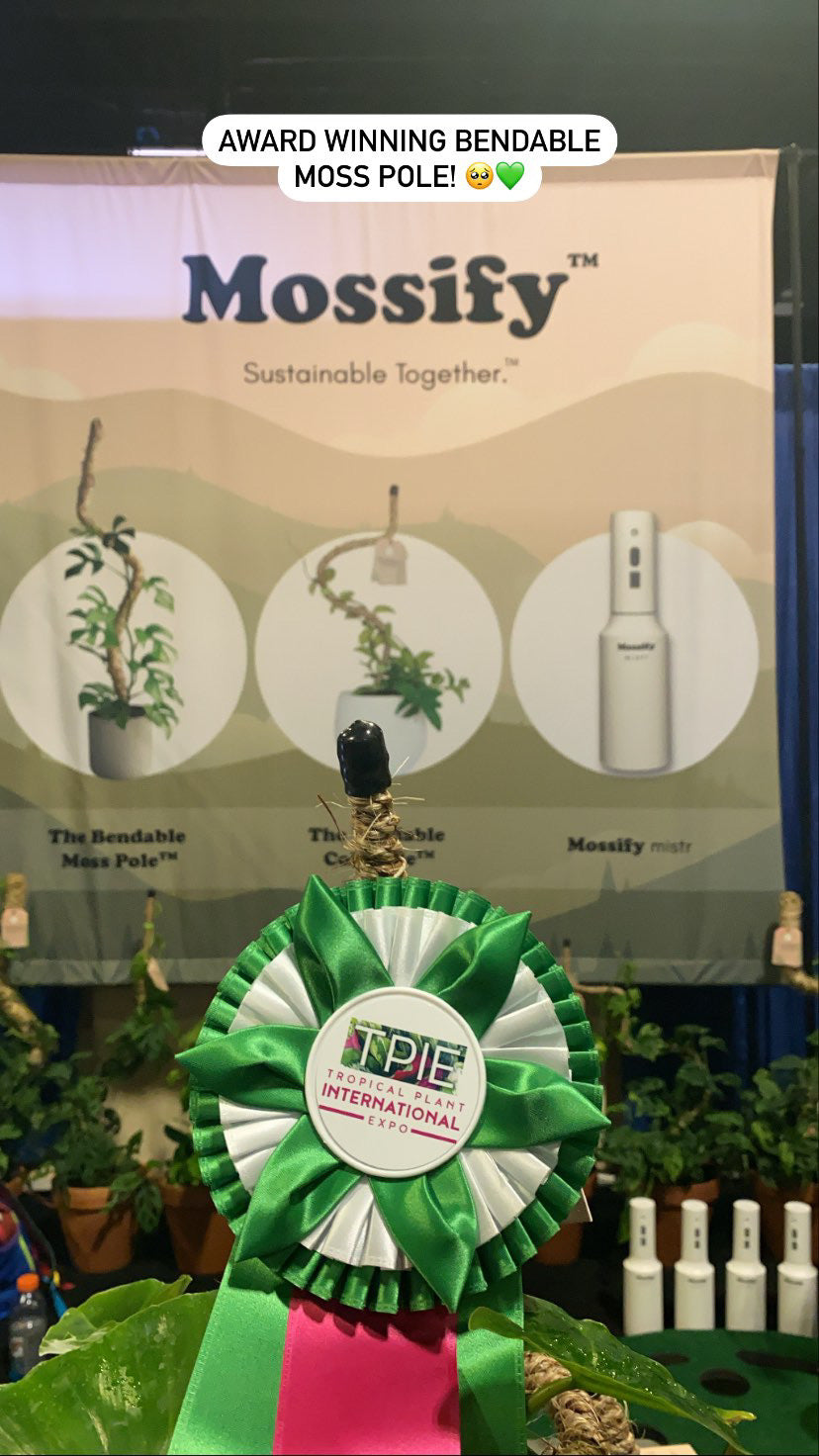 We won an award!
2022 TPIE Cool Product Retailer Award - What an amazing time! We met so many amazing people and are so grateful retailers voted for us!
-(January 2022)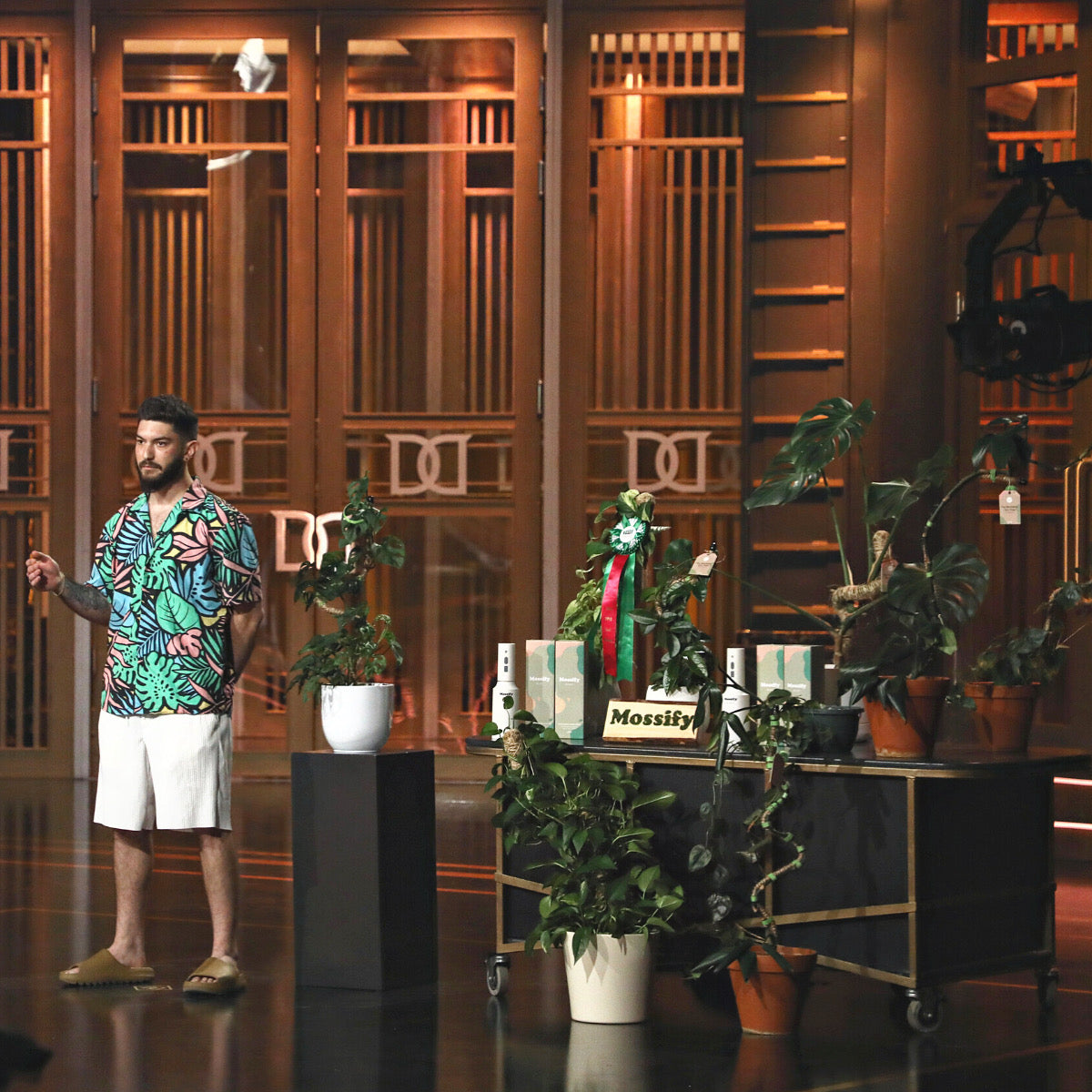 Mossify slays the Dragons.
Mossify & team faces the dragons & gets a deal! This was an extremely amazing experience and we are so grateful for the outcome
-(Filming May 2022 - Air Date September 2022)
Found at thousands of locations.
Our team is extremely proud and thankful to work with so many amazing family run businesses across North America and the world. We work tremendously hard to provide amazing quality products and very helpful and fast service. We love our partners and proud to not sell on Amazon and not to big box retailers!
-(January 2023)
Meet the team.
We are all so thankful to serve amazing family run garden centres and your communities with our brand!! We get our work done and have fun doing it! Don't ever hesitate to reach out. You are our number one priority, always.
-(From left to right -Hrayr, Keshav, Lucas, Thiago, Aidan, Marissa - April 2023)
Our Mossify promise.
We at Mossify feel it is necessary to give back. For every order, we plant one tree with our partner One Tree Planted. All of our products are made with sustainably sourced materials. We have also made an effort to use the least amount of single use plastics as possible.