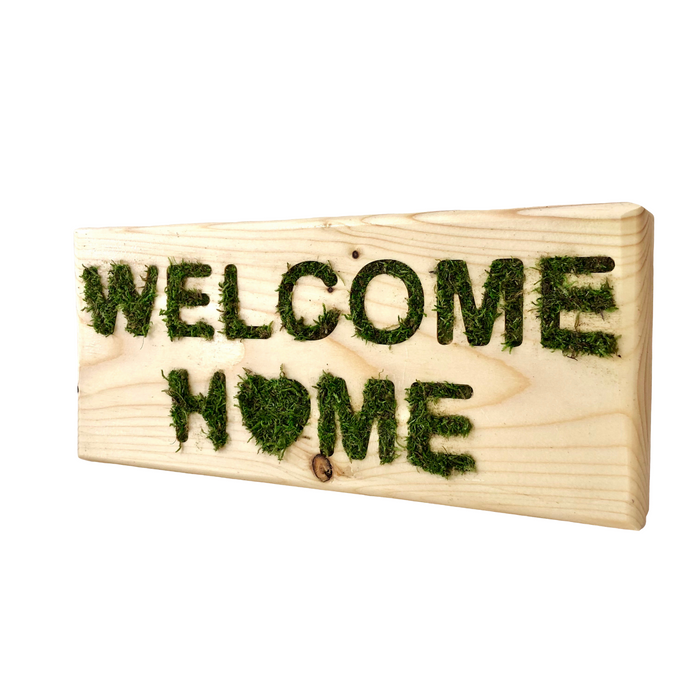 Welcome Home
Original price
$30.99
-
Original price
$43.99
1 Tree Planted for Every Order
Interested in Wholesale?
If you're looking to buy in bulk for resale, we offer special pricing for our wholesale customers. Click the button below to explore wholesale options.
Buy Wholesale
Welcome your plant family with a sign made with plants! :)

Bring some life back to this recycled piece of wood. If it wasn't for you, this wood was going to the landfill. At Mossify, we feel it is necessary to plant 1 tree for every product sold. We use beautiful wood and we create forests in return. :)

"Welcome Home"
Size - 5.5"x12"x1.5"

.: 1 Tree planted

.: Plant people approved
.: Wall hanger installed

.: Wood used either Spruce, Pine or Fir (SPF)

.: Pieces of wood will be beautifully different

.: Made in Canada

Dormant Moss - 4-6 grams (takes ~8 months to fully grow)
OR
Preserved Moss (requires no watering, always green, not living)

STEPS for DORMANT MOSS (+$5.00)
1: Simply mix moss with water in a cup.
(Let moss absorb water for 10 minutes)
2: Press moss inside groove.
3: Water with spray bottle 2 times a day for 3 months laying down.

We offer 3 types of burning! (+$4.00)
1: Outer Edge Burn
2: Inner Edge Burn
3: Creative Burn

This is where it all starts!

All Mossy Art pieces are made to order and can be customized!
We do events!! (please ask about wholesale prices)
Message us directly at Info@mossify.ca.